Home Connectivity Alliance Shows Progress at CES 2023, Sets the Stage for Adoption in 2023
edit
Home Connectivity Alliance (HCA), made a big splash at Consumer Electronics Show (CES) 2023 on Jan. 5-8 in Las Vegas, NV. CES is the largest global technology event and this year's event attracted 115,000 attendees from across the world.
The HCA booth was located in the Venetian Expo Center, and we showcased HCA's "Any app to any device" interoperability demonstration featuring solutions from multiple member companies leveraging Cloud-to-Cloud (C2C) Interoperability. We estimate over 1,000 people visited the booth, and we had great conversations with partners and the media throughout the conference. We also officially released the HCA Interface Specification 1.0 during CES, paving the way for more energy-efficient solutions within the connected home resulting in real-world energy and cost savings for the consumer.
Also during CES, HCA President Yoon Ho Choi was invited to participate in "The Heart of the Connected Home" panel presented by Omdia and including panelsts from Connectivity Standards Alliance (CSA) and Resideo. The discussion covered the importance of standards to smart home technology adoption, energy management, and the benefits of interoperability.
Showing the stong cross-industry support of HCA's mission, leaders from GE Appliances, LG Electronics, Resideo Technologies, Inc., and Vestel gathered to view the live demonstration in the HCA booth during CES 2023.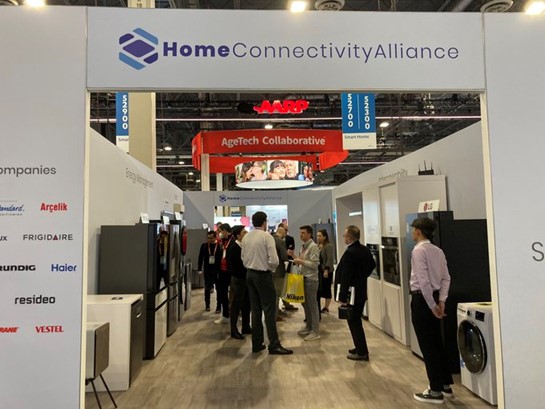 Continuing Momentum
As we move into 2023, HCA is actively working with industry leaders across energy management to build the foundation for a more energy-efficient and sustainable connected home, resulting in real-world energy and cost savings for the consumer. We are also looking forward to seeing adoption of the HCA standard and the rollout of HCA enabled products in the market later this year.
"The commitment of our member companies is a strong example of our continued momentum," said Yoon Ho Choi, Home Connectivity Alliance President. "With the release of our initial HCA specification, our members are able to begin development of interoperable and energy-efficient solutions between trusted global brands to provide convenience and cost saving to consumers. This alliance of industry leaders from competing companies shows the cross-industry support of HCA's mission."
Leaders from HCA member companies provided the following statements in response to the release of the HCA Interface Specification 1.0:
"In order to match the scale and complexity of the problems we are already facing today, we all need to work together to become more efficient whatever way our expertise allows. HCA represents a significant step forward as an industry-first, and I'm impressed by how fast we were able to establish the technical foundation and publish our guidelines, finding ourselves even closer to bringing interoperability to homes around the world. With HCA providing an open discussion platform for industry-wide strategies and standards, as manufacturers, we are not only elevating interoperable connected home experience but also making energy management at home more accessible. I want to thank all Alliance members for their dedication and hard work, and I hope more companies will join us in our mission."
– Hakan Bulgurlu, CEO – Arçelik Global
"We are happy to have reached another important milestone with HCA. Sustainability is a key priority for Electrolux, and HCA's focus on Energy management is an important step to support sustainable consumer experience innovation in homes all around the world."
– Jonas Samuelson, President & CEO, Electrolux
"Resideo is proud to help drive interoperability standards across the home for long life appliances with other Home Connectivity Alliance members. While we may be best known for our Honeywell Home smart thermostats and security systems, our Grid Services business helps shift energy demand – to help avoid rolling blackouts – when the electric grid is under strain. The Resideo team demonstrated the impact HCA members could have if utilities could shift energy consumption of other HCA devices – in addition to existing heating and cooling – to less demanding times. Together, we're helping deliver safer, more comfortable and efficient homes while protecting what matters most."
– Jay Geldmacher, President and CEO, Resideo Technologies, Inc.
"We are strengthening our vision of being a global technology company with platforms like HCA and organizations that drive technology around the world like CES. We offer consumers smart and connected products manufactured with the most advanced technologies. By focusing on sustainability in our R&D activities, we offer products and services that create environmental and social benefits for consumers. Our influence on the Internet of Things continues to expand with product, digital service, collaborations and organizational participation. As one of the dominant players in the market with smart city and smart home systems that we have developed with our artificial intelligence software and IoT competencies, we will do our part to set standards in the field of IoT. In this journey, our HCA board of directors makes a significant contribution to us. We will continue to provide our consumers and business partners with unique experiences with a smarter life perspective for everyone."
– Turan Erdogan, CEO, Vestel
Join Home Connectivity Alliance
The Home Connectivity Alliance is a member-driven organization comprised of 15 global brands dedicated to the development and promotion of safe and secure interoperability and energy savings across long-life appliances, HVAC systems and TVs within the connected home ecosystem. Connected home manufacturers are encouraged to join HCA now to be part of the future of C2C interoperability and energy management. To learn more about the Home Connectivity Alliance, membership benefits and how to join, visit www.homeconnectivityalliance.org.